This Rc plane is electrically powered.It is quiet, safe, clean, and perfect for outdoor use. Areas that are strictly off-limits to gas powered models. Fly the plane in parks, baseball diamonds, football fields, or even large indoor spaces like a warehouse. No license required. The flying performance is outstanding. Hand launch the plane with a gentle toss, then using the included radio control transmitter pilot the precise control over climb, glide and flight direction. To returning to earth just ease back off the throttle and the aircraft glides to a landing on it's belly. It has no landing gear to break off or snag on uneven ground. A full charge can last for flight times of about 8 minutes or more, then charge up in just minutes using the included charger. It is similar lengths of fly time as the gas powered RC models for before requiring refueling. With electric aircraft you don't have to buy gas, starter batteries or complicated starting apparatus, and no greasy mess to be cleaned up. The airplane features a remote controlled, battery-powered propeller for extended flights. The remote can be switch off the engine and let your high-flying glider adventure begin. Flip the switch on the controller and the propeller fires up to help you climb again. Master banking turns and flying in different wind conditions as you carefully hone your skills. The B-2 Stealth Bomber is constructed of EPP plastic foam that has excellent anti-break characteristics. It is a great-looking, ready-to-fly radio controlled aircraft that is sure to captivate beginners and experienced R/C pilots alike.
Package Included
* Hi-Capacity rechargeable Ni-Mh battery pack
* Airplane radio control system (8 x AA batteries not included)
* Quick battery charger
* Airplane(100% pre-assemabled),
* 2 extra Propeller
* Flying instruction manual
Notes:
* Don't fly in strong wind. Fly under wind speed of 3m/second
* Suitable for ages 12 and above

Warning for all RC device and parts:
* Choking Hazard Small parts
* If the battery pack leaks, keep it far away from your eyes.
* Use only the adapter in the package.
* Never leave the battery charge without attention
* Be careful on your learning process to prevent crashing.
Seller is no responsible for any damage done by buyer.
* Heavy crash and fall will shorten the life of the airplane.
* Choose a safe place to fly the airplane.
* Seller is not liable for any misuse of this product and is not liable for any accident or injuries cause by this product.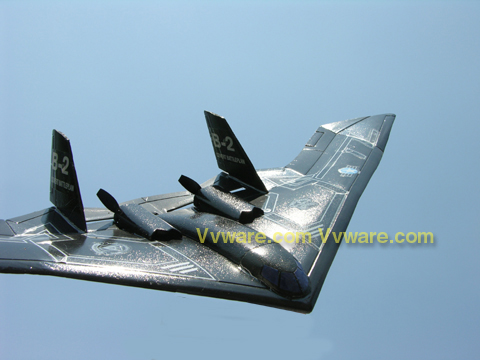 ID 3
Model No B2 Bomber
Item RC 2CH Airplane B2 Stealth Bomber
Introduction
Electric Power Radio Control Helicopter HIGH-GRADE FLY MODEL SERIES
Price
Sale Price¡G $32.99
+ Shipping Charges 16.99
Sorry, item out of stock!