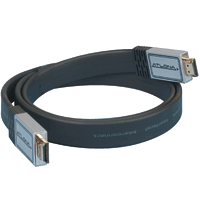 ID 29
Model No C0029_HDMI-FT-MM-15
Item HDMI to HDMI gold plate connector_15ft
Introduction
HDMI to HDMI 24K gold plated connector 15 ft.,
28AWG Bare copper x 4, 28AWG Tinned copper x 7,
Rubber grip near each connector for easy handling
Rated Voltage-30(V), Rated Temperature: 80(C)
Flammability Test- VW-1
Impedance(Diffierential) A:100(+/-)10 (1-2.5 ns)
Delay skew(ns/6m) A:<=2.42,
Delay skew(ps/6m) A:<=151
This cable designed for HDMI devices such as
DVD, satellite boxes, LCD, projectors,
plasma and HDTVs displays.
HDMI supports standard, enhanced, and
high-definition video, plus multi-channel
digital audio on a single cable. It transmits
all ATSC HDTV standards and supports up to
8-channel digital audio, with bandwidth to spare
to accommodate future enhancements and
requirements.
Price
Sale Price¡G 24.38